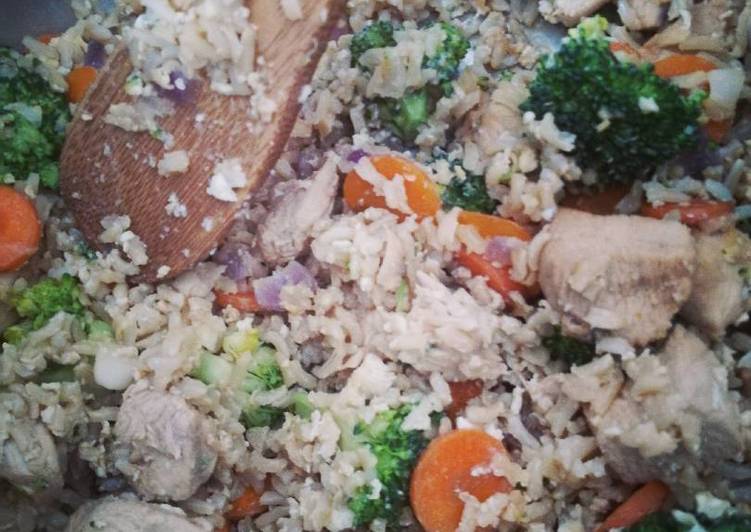 Chicken Teriyaki and Fried Rice.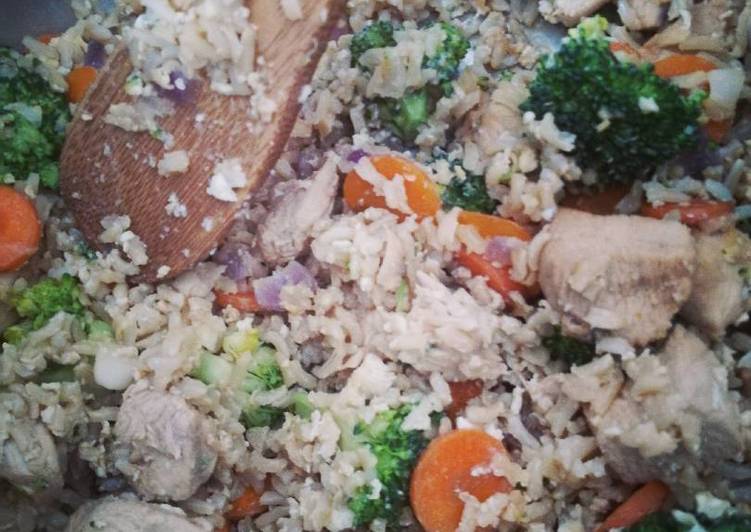 You can cook Chicken Teriyaki and Fried Rice using 12 ingredients and 6 steps. Here is how you achieve that.
Ingredients of Chicken Teriyaki and Fried Rice
It's 2 of chicken breasts, cubed.
You need 1 cup of teriyaki sauce.
Prepare 2 teaspoons of oil.
Prepare 1/2 cup of onion, diced.
It's 1 tbsp of garlic, minced.
You need 1/2 cup of carrots, diced.
It's 1 cup of broccoli florets.
You need 3 of eggsies, beaten.
Prepare 3 cups of cooked brown rice.
Prepare 2 tbsp of soy sauce.
You need 1 tbsp of sesame oil.
You need of Pepper.
Chicken Teriyaki and Fried Rice step by step
Marinate the chicken in teriyaki sauce in the refrigerator for at least one hour..
In a wok or deep skillet, add the chicken in the teriyaki marinade and cook thoroughly over high heat. Set aside..
In the same pan, add the oil and cook onion, garlic, and carrots until onions are translucent..
Add broccoli and cook an additional 3-4 minutes. Push all of the cooked vegetables to the side of the pan..
Beat the eggsies and pour into the cleared half of the pan. Scramble the eggsies and mix with the rest of the veggies..
Add rice (already cooked), soy sauce, sesame oil, pepper, and the cooked chicken. Mix well and let the rice cooker until slightly crispy..