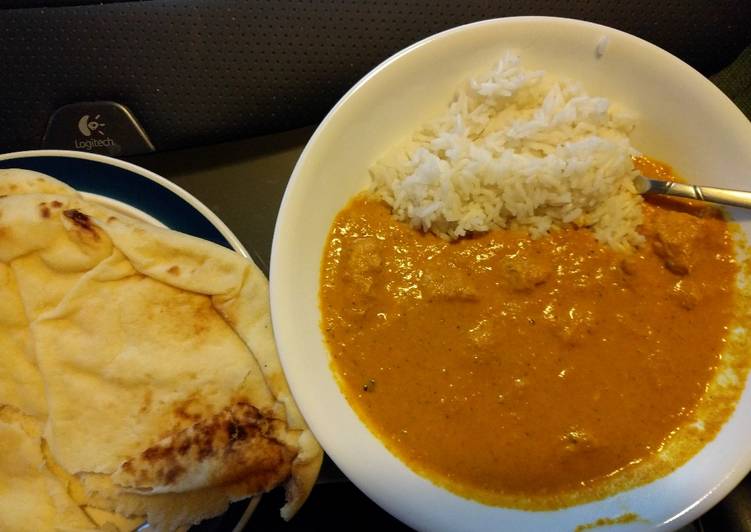 Chicken Tikka Masala.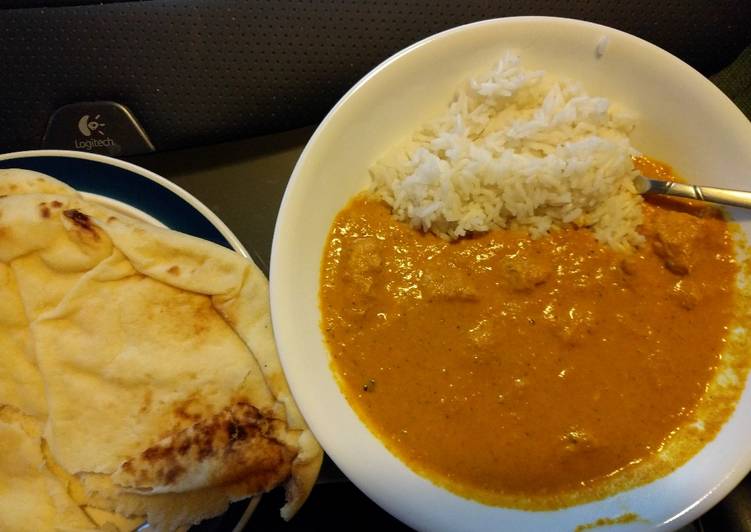 You can cook Chicken Tikka Masala using 18 ingredients and 6 steps. Here is how you cook it.
Ingredients of Chicken Tikka Masala
It's 3 lb of boneless skinless chicken (thighs or breasts).
It's 3 tablespoons of toasted ground cumin.
You need 3 tablespoons of toasted paprika.
You need 2 tablespoons of toasted ground coriander seed.
It's 2 teaspoons of ground turmeric.
Prepare 1 teaspoon of cayenne pepper.
You need to taste of cinnamon, nutmeg, clove, star anise and cardamom.
You need 12 cloves of garlic.
It's 3 tablespoons of fresh ginger.
Prepare 1 1/2 cups of whole plain yogurt.
Prepare 3 oz of fresh lemon juice.
It's 2 tbsp of salt.
It's 4 tablespoons of butter.
It's 1 of onion, thinly sliced.
It's 28 oz of can whole peeled tomatoes, roughly smashed.
It's 1 cup of heavy cream.
It's of very small amount of cilantro (is there dried?).
You need of naan and basmati rice.
Chicken Tikka Masala instructions
Cut chicken into bite sized pieces. Pierce them with a fork. Place in large ziploc. Set aside.
Combine spices in a small bowl and mix well. Set aside 3 1/2 tablespoons of mixture. Combine remaining mixture, 8 cloves of garlic, 2 tablespoons ginger, yogurt, 3oz lemon juice and salt in large bowl and whisk to combine. Pour mixture into chicken ziploc. Remove air and seal. Mix well. Refrigerate for 4-8 hours..
After marinating is done, heat butter in large pot or dutch oven over medium-high heat until melted and foaming subsides. Add onions, 4 tablespoons garlic and 2 tablespoons ginger. Cook, stirring frequently, until dark and beginning to char (about 10 minutes)..
Add reserved spice mixture and cook, stirring frequently, until fragrant, about 30 seconds. Add tomatoes and cilantro (optional), scraping any browned bits from bottom of pan. Simmer for 15 minutes, then puree using either a hand mixer or transferring to a blender. Add cream and lemon juice and stir in..
Back to the chicken! Line a broiler pan with heavy duty aluminum foil and preheat the broiler with the rack set 6 inches below broiler element. Wipe excess marinade off chicken and place on foil-lined pan. Broil until charred and blackened on surface, about 5-6 minutes (chicken will not be completely cooked through—this is ok). Transfer to cutting board and allow to rest 10 minutes..
Transfer chicken chunks to pot of sauce. Bring to a simmer over medium heat and cook, stirring frequently, until chicken is just cooked through, about 10 minutes. Sprinkle with remaining cilantro (if using), then serve immediately with rice and/or naan.