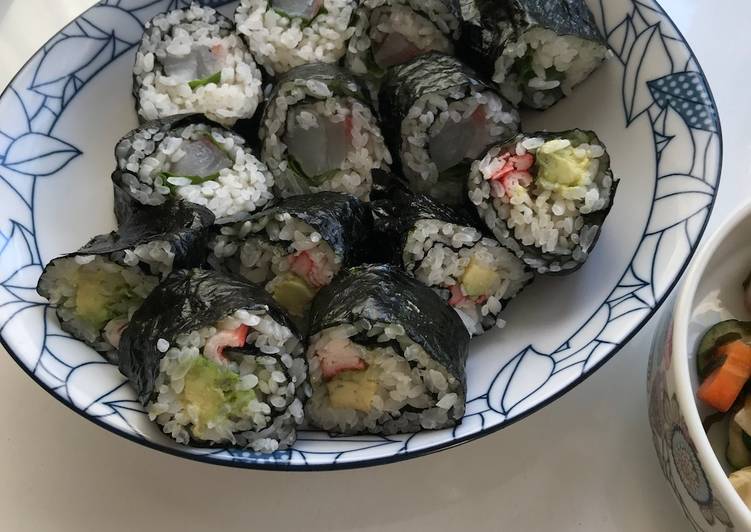 Nori Roll Sushi (Norimaki).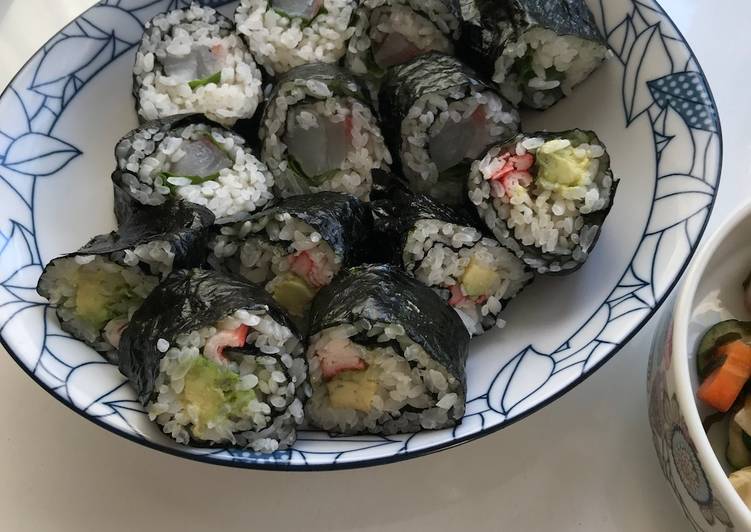 You can have Nori Roll Sushi (Norimaki) using 6 ingredients and 5 steps. Here is how you cook that.
Ingredients of Nori Roll Sushi (Norimaki)
You need 700 g of cooked sushi rice.
Prepare 5-6 sheets of nori.
It's 1/4 of fish fillet for sashimi : (A).
You need 6 of fresh basil leaves : (A).
Prepare 1 of avocado : (B).
You need 4 of kanikama crab sticks (surimi) : (B).
Nori Roll Sushi (Norimaki) step by step
Prepare the Sushi rice. To learn how to cook Sushi rice, check at https://cookpad.com/uk/recipes/6406235-sushi-rice)..
Cut the sea bream fillet into sticks. Soak the basil leaves in water..
Slice the avocado to 6 mm thin. Thinly strip the kanikama crab sticks..
To assemble and roll the Norimaki: Place the nori sheet shiny-side down on a bamboo rolling mat (otherwise cling-film). Thinly spread the rice over the nori, leaving a 1 cm border on one long edge. Be careful not to squash the grains of rice as you spread it..
Place the filling ingredients in a line down the centre of the rice. Pick up the rolling-mat keeping the filling ingredients centred. Then roll the mat over to meet the other side. Press and roll the rolling-mat over the norimaki lightly. The norimaki will stick together from the moisture in the rice. Repeat the assembling steps. When the norimaki becomes tight (approx. 5~6 minutes), slice it into rounds..