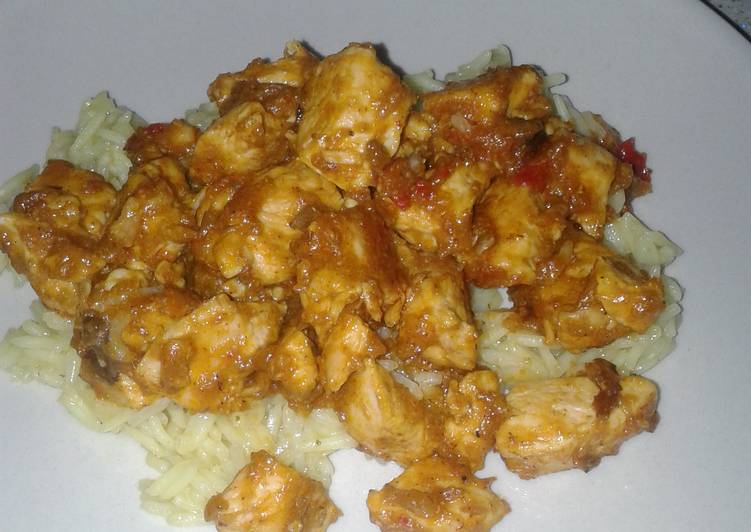 Chicken Tikka Masala.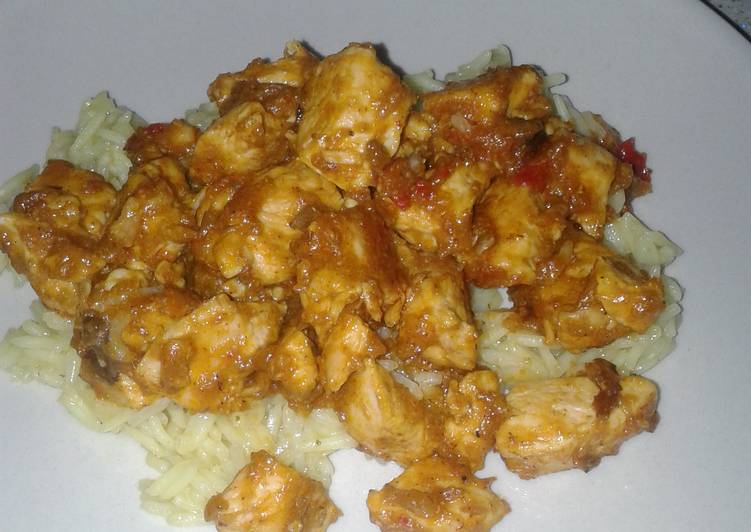 You can have Chicken Tikka Masala using 16 ingredients and 6 steps. Here is how you cook that.
Ingredients of Chicken Tikka Masala
Prepare 6 clove of garlic, finely grated.
It's 4 tsp of finely grated peeled ginger.
You need 2 tsp of ground turmeric.
It's 2 tsp of garam masala.
You need 2 tsp of ground coriander.
Prepare 2 tsp of ground cumin.
Prepare 1 1/2 cup of whole milk yoghurt.
Prepare 1 tbsp of salt.
You need 2 lb of boneless chicken breast, halved lengthwise.
Prepare 3 tbsp of vegetable oil.
It's 1 small of onion, thinly sliced.
It's 1/4 cup of tomato paste.
Prepare 128 oz of can whole peeled tomatoes.
Prepare 2 cup of heavy cream.
Prepare 3/4 cup of fresh cilantro.
It's 1 of steamed basmati rice.
Chicken Tikka Masala step by step
Combine garlic, ginger, turmeric, garam masala, coriander and cumin in a small bowl. Whisk yoghurt and half of spice mixture in a medium bowl. Add chicken and turn to coat. Cover and chill for 4-6 hours. Cover and chill remaining spice mixture..
Heat vegetable oil in a large pot over medium heat. Add onion, tomato paste, and cook, stirring often until tomato paste has darkened and onion is soft. About 5 minutes. Add remaining half of spice mixture and cook stirring often until bottom of pot begins to brown. About 4 min..
Add tomatoes with juices. Bring to a boil,reduce heat and simmer stirring often and scraping up browned bit from bottom of pot until sauce thickens about 8-10 minutes..
Add cream and chopped cilantro. Simmer, stirring occasionally, until sauce thickens for about 30-40 minutes..
Cut the chicken into bike size pieces and than fry it..
Add it to the sauce and simmer for about 8-10 minutes. Serve with rice and cilantro springs..